Cristiano Ronaldo has recently completed his legendary transfer back to Manchester United, and for the CR7 brand, it is vital that he continues to wear the number seven shirt…
Arguably the world's greatest footballer, Cristiano Ronaldo is as much a man as he is a commercial entity. In other words, 'CR7', as he's commonly known, is like a living, breathing business. Thought to be worth some 500 million dollars (c350 million pounds), Ronaldo is one of the world's most recognisable footballers, and celebrities in general.
Alongside his wizardry footballing talent, Ronaldo has accumulated much of his wealth off the pitch. Known mainly for his menswear collections – specifically underwear and denim – Ronaldo, as a brand, oozes luxury. The CR7 brand would undoubtedly fall into the Hero or Ruler brand archetypes, which you can find out more about here.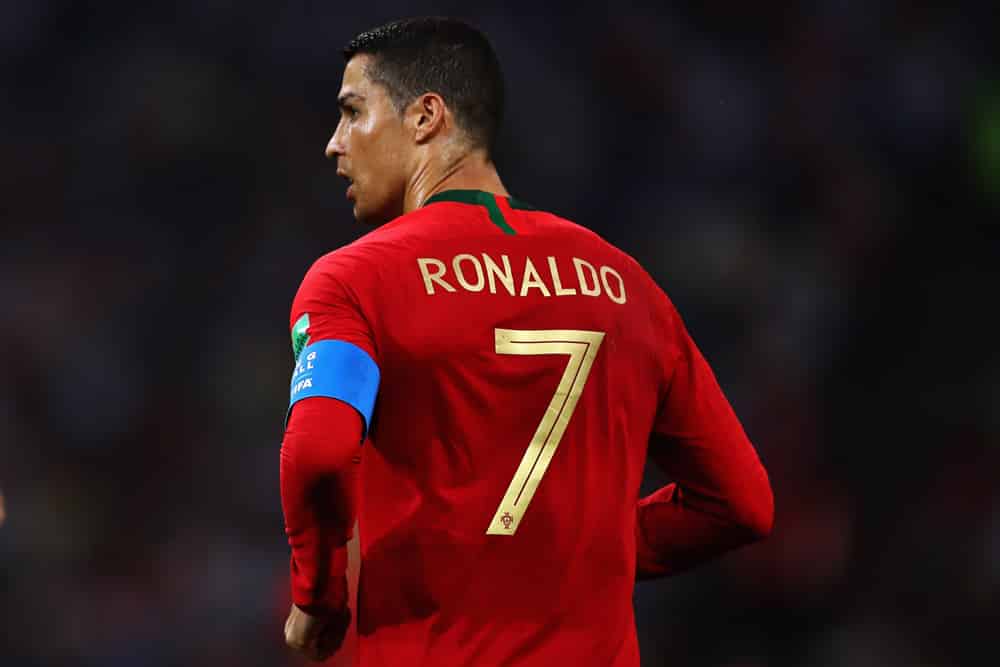 The CR7 brand is powerful. It spans the fashion sector, and Ronaldo himself also has holdings in several hospitality ventures. Furthermore, the Portuguese winger has held the starring role in many an advertisement and sponsorship campaign; his deal with Nike is reportedly worth around 20 million dollars per year.
One of the most unique and prominent aspects of the CR7 brand is actually very, very simple. It's the use of the number 'seven'. Ronaldo doesn't 'own' the number seven, yet such an everyday, ubiquitous thing has become synonymous with him. It is from this that we can learn about the power of iconography in branding.
---
We are for the people. We are for football. Check out JAX Branding's football manifesto to get a taste of what we're about.
---
What is iconography in branding?
An icon is something recognisable. It is immediately linked to the entity it represents – if created well, at least. In branding, iconography tends to refer to logos, imagery, and other visual entities used to portray a brand's identity or an intended action.
Iconography is not limited to branding and business, however. The film industry uses iconography in nearly every flick you've watched. Captain America's shield, the revolvers and saloons of Westerns, and Harry Potter's scar are all examples of iconography. Elsewhere in life, the red poppy of Flanders Field and the Virgin Mary are other examples of iconography.
Icons tend to be simple, and this is partly what makes them so powerful. They are easy to notice, and also easily replicable. The best logos tend to be simple logos, like the Google 'G' or the Nike Swoosh. This isn't true of every single logo, but simplicity is paramount in effectively portraying a message to a mass audience. This is partly why the '7' in the CR7 brand is so important, and why, for commercial reasons, it is important for Ronaldo that the Premier League have allowed Manchester United to make an 'emergency' shirt number swap. Ronaldo will wear his iconic number seven after all. How strange would it be to see 'Ronaldo 38' on the back of a shirt?
Numbers are used as icons in other sectors. Think of the mobile provider 'Three', for example. However, in football, numbers act particularly well as icons as so much in football revolves around them. We have shirt numbers, like the 'Ronaldo 7' that has become the CR7 brand, scorelines, attendances, dates of momentous matches, and more.
What does the CR7 brand consist of?
Cristiano Ronaldo has interests in a wide range of enterprising ventures. They go further than the CR7 brand and its clothing range, although this is an integral part of Ronaldo's commercial ventures. Operating in the clothing industry works for Ronaldo; as the ultimate metrosexual man, fashion and fragrance fits his personal 'brand identity'.
In that sense, the CR7 brand already utilises an existing image to leverage its appeal. At JAX Branding, where support ex-footballers step into the corporate world, this can be a particularly powerful branding technique to explore given the large following and existing fan base that many footballers have.
However, Ronaldo's investments range beyond fashion and fragrance. As of 2021, Ronaldo is reported to own ten hair transplant clinics, as well as having interests in several hospitality outlets – namely hotels, under the brand PentanaCR7. Gyms are another avenue that Ronaldo has explored in business.
Finally, Ronaldo uses his huge social media following and worldwide appeal to tie down sponsorship deals. The Portuguese winger has appeared in many an advert, and his existing sportswear deal with Nike reportedly earns him tens of millions of pounds a year.
How does the CR7 brand use iconography to create meaning?
Not every brand will have Cristiano Ronaldo's worldwide appeal available to them to leverage growth. Few, if any, footballers have reached the level that Ronaldo has in terms of turning his footballing skill and image into a multi-million pound business. However, every business can learn from the CR7 brand, in terms of its branding.
Iconography, as we've discussed, is used to make things simple. Visually, simple hooks are powerful, and this is what the CR7 brand achieves by using the '7'. Ronaldo was not the first footballer to wear the number seven, but is arguably the most famous.
Naturally, the 'power' of the '7' icon is founded in the level of Ronaldo's performance. He has attached memories and images to 'Ronaldo, 7' that will live long in the memory of football fans around the globe. Therefore, the first thing that one should consider when using iconography in a brand is the message that goes behind it.
JAX Branding will help you discover the message that you want to portray, and how to best portray it to your customers. Alongside this, however, we should remember that quite literally anything that has some sort of attachment to you or your business can be used as an icon. You don't have to start with the story; you can start with the icon and work a story from it.
The beauty of iconography in branding is that it's simple, effective, and also flexible. Because of its simplicity, icons can be replicated and adapted to fit an overarching brand identity. Cristiano Ronaldo's '7' almost supersedes his name when it comes to the CR7 brand, and your brand can replicate this effect through well thought out iconography.
Whatever the image that you want to portray, JAX Branding will help turn your vision into a reality.
Want to kick off your business career? Chat with Jack about your vision, and get the ball rolling.