The world's greatest footballer and the high street teddy bear retailer have a crucial, successful branding trait in common…
'How to make your brand stand out'. That's a big question. In the corporate world, it is an almost existential one, like questioning the meaning of life or whether God exists. And let's face it – standing out in business is difficult. Because, chances are, that idea you've been mulling over for weeks probably isn't completely original.
We're often told to 'think outside the box'. At conferences, training days and via online seminars or courses, the best ideas allegedly always come from 'outside the box'. However, 'thinking outside the box' doesn't actually mean very much. Essentially, ideas from outside of the box tend to be a random set of notions and images that have no real meaning at first, but form the basis of something that can be quite incredible.
But thinking outside the box isn't always the best way to answer the planet-sized question of 'how to make your brand stand out'. This article is going to present you with two more definitive ways to define how to make your brand stand out – before you reach out to a branding agency.
Build-A-Bear and Lionel Messi: two entities that are unlikely to ever mix in reality, but can teach us a thing or two about making your brand stand out.
American toy retailer Build-A-Bear are teddy bear makers who do things differently. If you're from the UK or US, you will probably be familiar with the brand. And, if you were born after 1997, you've probably attended a birthday party at the Build-A-Bear store aged around six or so – or at least taken your child to one.
Build-A-Bear are no ordinary stuffed animal store, however. They do things differently, as we'll get to see soon.
Lionel Messi is arguably the world's greatest footballer. Nearly 500 goals in over 500 Barcelona appearances have marked the senior career of a footballing legend who will go down in history as one of, if not the, greatest players to play the beautiful game. Messi, like an increasing number of footballers, has become a brand in his own right.
But how do Messi and Build-A-Bear mix? Well, not in practice, because they're entirely different things. But in terms of our 'big question' of 'how to make your brand stand out' they provide two simple yet overlooked answers. Two answers that seem obvious in principle, but that most brands don't always optimise – or indeed clearly choose between.
How to make your brand stand out – Method #1:
Optimise the customer experience.
'Seriously?'. 'Is that it'?
Yes, but simple is effective. It's how you do simple that stands you out.
Method one applies directly to Build-A-Bear. In reality, the actual teddies that the company produce are fairly ordinary, not dissimilar to your average stuffed toy. But as we'll see with the case of Lionel Messi, Build-A-Bear excels in a specific area which, in turn, enhances other aspects of their brand.
Build-A-Bear calls their stores 'workshops' or 'factories'. When you buy a teddy from the store, you get to make it from scratch – and watch it being made. From colour to clothes to its name, the entire process is fully customisable. The company treats it like adopting a pet, with a certificate given to each child who purchases or 'adopts' a bear.
The customer experience is fully immersive. Other brands that implement similar tactics are Disney at Disney World or Warner Bros at their Orlando Resort. In each example, the brand 'consumes the consumer' and transports them to another world. Build-A-Bear do this in a particularly unique way, one that few brands can practically replicate.
Any brand that employs similar tactics to Build-A-Bear will now be seen to be 'copying'.
Although your brand might not be able to create magical teddies, they can optimise their customer experience. But how to make your brand stand out for sure? Research your competitors' websites and their stores.
How many employees have they got? Do they provide enough fitting rooms? Is the till always manned? Is it too dark, or too claustrophobic in the store? On their website, is there a chat bot to help with enquiries? Do the telephone enquiry staff go above and beyond? Are waiting times too long? In each business, there is always room to improve customer service.
This is a particularly good idea for product-based but people-facing brands such as car dealerships, where staff spend a lot of time talking to people. Alternatively, enhanced customer service is important for brands who sell premium priced items. By optimising customer experience, you can approach an agency like JAX Branding with a clear USP. If you haven't quite figured that out yet, we'll help you discover what makes you different.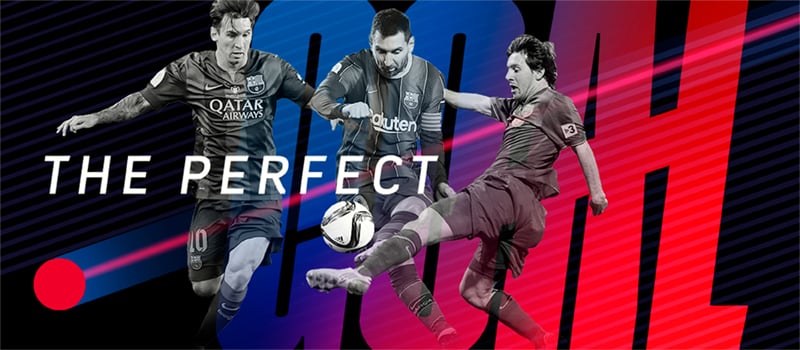 How to make your brand stand out – Method #2:
Optimise the product.
And now, onto Messi.
Lionel Messi, as a 'product' (i.e. a commercialised footballer), is an extraordinary talent. He's almost a footballing innovation; groundbreaking, record breaking and ankle-breaking in the case of the defenders he dribbles against.
Lionel Messi is a master of what he does. He is the best product in the field.
Of course, it's not as practically easy to create a truly great product as it is to create a fantastic customer experience. Depending on what your product is, there are limits to how 'truly great' it can be. Nevertheless, intensive function testing and user testing, as well as progressive innovation, can help here.
Lionel Messi reaps the rewards of option one automatically because he puts on such a show. In other words, because he is such a good 'product', the customer experience is simultaneously bettered. A similar principle applies elsewhere in business. For example, Apple have stopped providing free headphones with their new phones. That's not great customer experience optimisation. But are you going to stop buying an iPhone? No, because it's a great product.
The key message to take from optimising a product in terms of how to make your brand stand out is to choose between method one and method two. Not in terms of how good either one is, because both have to be good to create a successful business, but more so in terms of which one you're going to optimise and use as your USP.
Because one of the biggest business failings is trying to do it all. Focus on the method that you believe you can provide the most value with – the one you are naturally most suited to optimising. If you're a people person, take option one. If you want the face rather than the hands, take option one. But, if you prefer to be the brains and want to stand out as an expert, take option two.
At JAX Branding, we turn your chosen method into a beautiful, beloved brand. Let's connect, and make your brand stand out.
Want to kick off your business career? Chat with Jack about your vision, and get the ball rolling.