Liverpool vs Everton. Manchester City vs Manchester United. Nottingham Forest vs Derby. Celtic vs Rangers. Rivalries come down to one thing – identity.
Identity in football branding is perhaps easier to capture than in other industries. Football, history and culture tie into each other, giving each football club distinct values upon which they are built. Liverpool's identity today has been shaped by both triumph and tragedy – Manchester United likewise. Celtic and Rangers' differences come down to religion. The Forest vs Derby rivalry is often attributed to which of the two clubs legendary manager Brian Clough held most dear to his heart.
Rivalries themselves have historically brought out the best and the worst in football fans, with fundamental differences in socio-political views often an attributing cause. For example, the Liverpool/Everton rivalry, although mostly based on location, originates from the different political views of original Everton board members.
Chairman John Houlding was a member of the Conservative Party, whilst other senior figures supported the Liberal Party. Political disputes reportedly forced Everton out of Anfield (yes, they used to play at Anfield), allowing Houlding to set up what is now Liverpool FC.
The rivalry between Celtic and Rangers is a little darker. Based on religious differences (Catholic and Protestant), as well as matters related to national identity and the issues surrounding Northern Ireland, the identity of the 'Old Firm' teams is deeply rooted in matters away from the pitch. Rightly or wrongly, these views and values have shaped both the clubs and their fanbase.
What is identity in football branding?
Identity – 'the fact of being who or what a person or thing is' – sits at the core of branding. In football especially, identity makes clubs more than just businesses. It puts the human in the middle of the money, and, as such an important stakeholder, fans dictate the importance of fixtures. Whether it's for bragging rights at school or in the office, or for matters more personal, identity influences rivalry, and makes football a sport for the ordinary man.
This identity can become a brand. Agencies can display values in art forms – visual branding such as logos, website designs, colour palettes, and stadium decoration – as well as in print copy, slogans, and even things such as club charters. Rivalries then can dictate to us how to differentiate our identity from the competition. What sets one club or organisation apart from another? How can we manipulate these differences to serve our audience? What story can we tell – one that our competitor can't?
Identity in football branding balances commercial interests with those of the consumer. It's important to remember, though, that consumers are more than just numbers on a spreadsheet. They are real people with emotions and values. Football typifies this like no other industry – when the value of the human fan is diluted by owners who lack a clear appreciation of their fans' worth, relationships break down, and the identity of the club fractures.
It is rivalries that exemplify the human side of football. Whether identity is social, cultural, political or otherwise, or perhaps even founded in memories, rivalries bring out our true loyalties and emotional attachments. For branding agencies, this helps to truly understand the consumer's needs.
Emotion is a huge part of branding, much like it is in football rivalries.
JAX Branding considers the 'whole' client. Human beings are dynamic – their feelings change, and their tastes develop, but the values that make them who they are will always influence their decision-making.
When we place this in the context of football branding, rivalries are undoubtedly similar. It's clear that different generations of fans, players, managers and officials will share different beliefs and develop different identities. However, humans are naturally competitive and want to win. Thus, the core values of a person or club – often interlinked in the footballing sphere – will naturally surface when pitted against an opponent (a fan from another club, for example).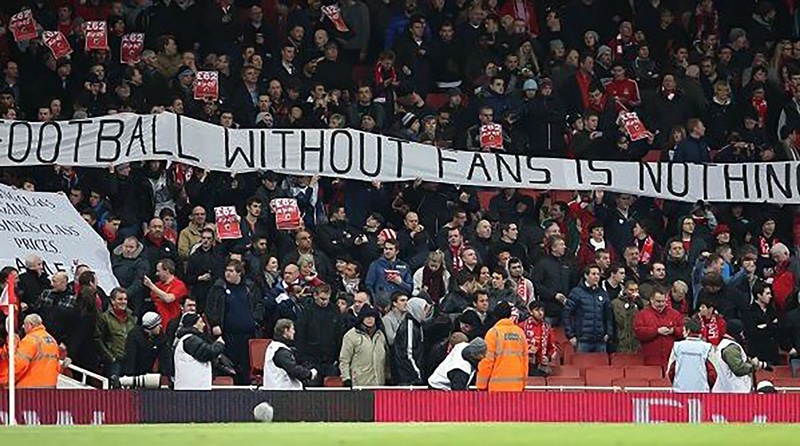 Identity in football branding is only successfully achieved when the human is placed at the centre of the strategy. Rivalry is something that often has negative connotations, but in a branding sense, it can be spun into something positive. It's important to remember that people aren't necessarily 'wrong' in their beliefs, just different (to an extent, of course). Thus, identity in football branding is all about focusing on the values of the people themselves and using this to answer the question of 'who really am I?'.
In turn, a brand story is told. A story personal and relatable to a specific audience with specific needs.
Want to kick off your business career? Chat with Jack about your vision, and get the ball rolling.