Money has always been an uncomfortable topic to talk about, and, where football is concerned, it can do both bad and good. However, to make the world a better place, money can't be neglected.
---
What you'll learn in this article about the importance of profitable branding
How branding translates to money

The costs of branding

Why money matters
---
The football industry is no stranger to money. The collective revenue of the 20 Premier League clubs alone sits in the billions. Player wages and broadcasting revenue make up the bulk of outgoings and incomings on the end of year balance sheet, and the figures involved can be mind blowing. Football clubs are a prime example of the concept of profitable branding.
Profitable branding is a fairly loose term, but it essentially means branding that helps your organisation generate money. For the amount you spend on branding, your finished brand will help you make more back.
Branding statistics
As branding is not a quantitative part of business, the idea of profitable branding cannot be defined by statistics. Rather, it is defined by theory and principles. In football, we see one of the strongest examples of it in the corporate world today – across the game, not only in the top five leagues.
Although it is true that branding alone does not make clubs profitable, a weak brand on and off the pitch will cause disconnect with fans and detract from revenue. In contrast, a strong brand creates an affinity between club and fans – often a wide demographic.
From a badge to a kit, or even a manager in the dugout to players on the pitch, football is a game of connection between people of the past, the present, and the future. A club's brand is defined by its roots, and a strong brand will help fans connect to this common entity – the history that defines a club.
But how does a football club's identity translate into profitable branding?
It's important to remember that a football 'club' is ultimately a collective of individuals with a shared interest. The human side of the game is indeed where profitable branding stems from.
Clubs make revenue from four key areas: ticket sales, player transfers, broadcasting revenue and commercial partnerships. All of those factors depend, to differing extents, on the following of the club, the interest in attending/watching matches, and the strength of connection that a fan feels to their club.

As we've already discussed, a strong football brand comes in different formats. Visual icons such as logos and kits bring fans and clubs closer together through timeless visual concepts. For example, kits may change, but everybody knows that Liverpool are the 'red half of Merseyside'.
Brand messaging – the daily connections that clubs make with their fans in the present through engagement initiatives, open stakeholder communication, and trying to stay true to the club's roots – is another key part of forging a successful brand. These bring the holistic identity of the club, and the people currently invested in it, to a common place of understanding and connection.
---
We are for the people. We are for football. Check out JAX Branding's football manifesto to get a taste of what we're about.
---
So, people begin to feel part of the club. They become loyal to it. They purchase more tickets, or merchandise from the store. Attendances increase, performances on the pitch tend to improve, and the prospect of a club being selected for TV broadcast increases simultaneously. In turn, this strong sense of brand identity has translated into profit; a club has achieved 'profitable branding'.
The other side of the coin is stark. A club with a poor connection to its fan base sees its attendances dwindle. Protests begin, and performances worsen. Revenue streams close off and commercial opportunities are no longer as attractive for sponsors as, ultimately, fewer people are physically seeing their advertising live, or on TV. Relegation becomes a bigger threat, and suddenly, money dries up.
A prime example of the power of the brand in football is Manchester United. The Red Devils have endured a turbulent last eight years or so, with league performance generally well below what is expected of a club of that stature. However, United are still one of the most profitable, wealthy, attractive clubs in the world, because the image of the club is so well forged in its history that they have, essentially, become iconic.

Their football brand, holistically, is cemented in place.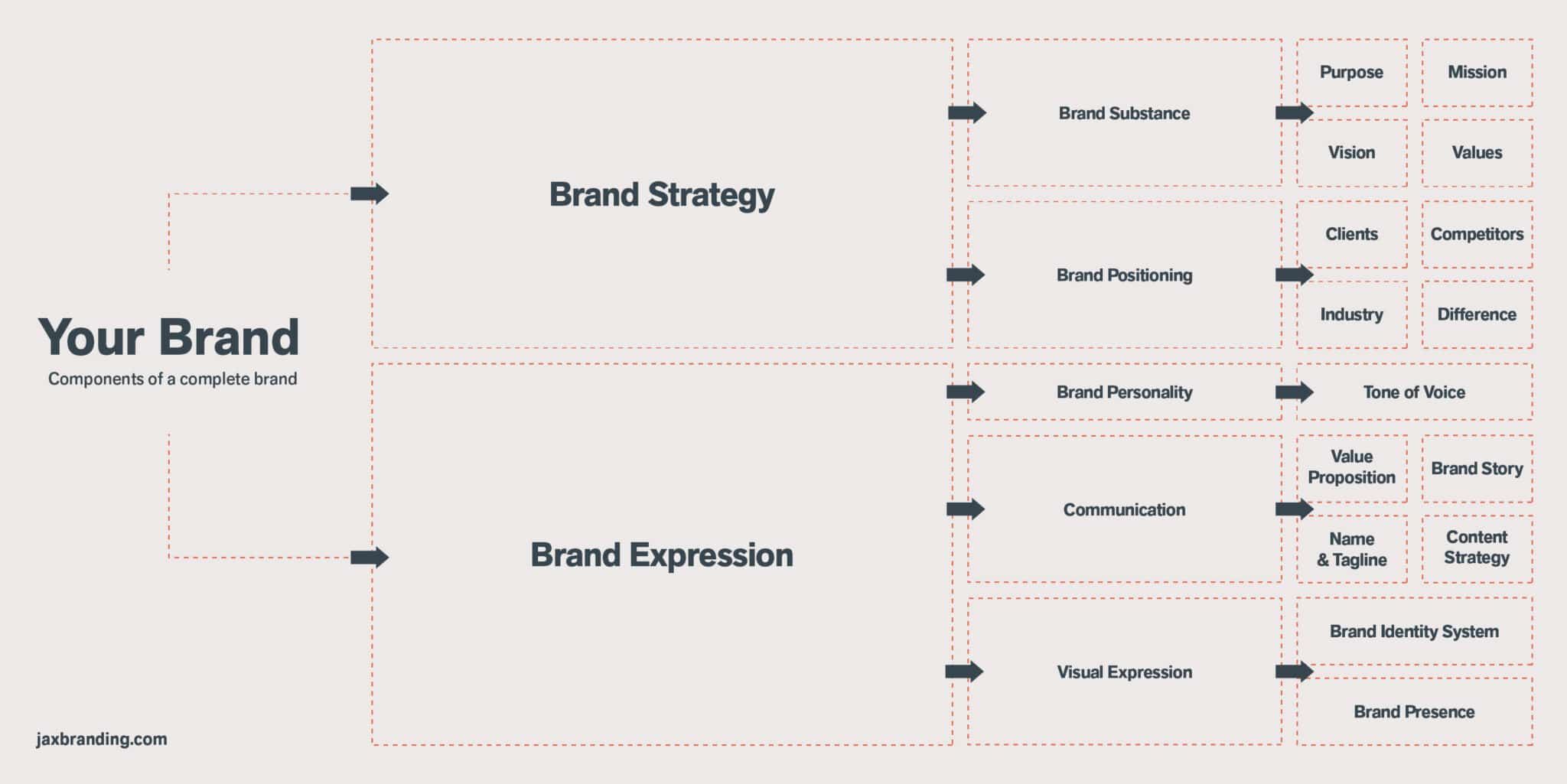 The costs of branding a business for footballers
It's important to remember that any costs related to branding your business will most likely be offset by the good work your branding does. However, several factors impact the cost/benefit decisions of hiring a branding agency.
The first is undoubtedly the quality of the agency. As the saying goes, pay cheap, pay twice. A good branding agency will support you from brand strategy development to a stunning visual identity as a final product.
At JAX Branding, for example, we begin every project with a series of discovery calls to make sure we understand you, your project, and your brand goals to create something in tune with these factors. Second, your brand identity must be supported on the ground.
Your branding 'captures' your reputation, meaning that people associate your brand's visual cues (a logo, for example) with certain positive emotions. Your brand alone will evoke emotion to an extent, but the reputation that it carries is underpinned by the day-to-day marketing, sales and customer service efforts of your team.

For example, a beautiful brand that speaks perfectly to its target consumer is a great thing in itself. Yet, if your employees are rude, service slow and website unnavigable, the branding loses its gravitas.

A quality branding agency will take you far, and establish strong foundations for your business to succeed. Your organisation's practices need to complement this for the biggest benefit.
As Michael Janda says, 'in creative services it is usually in your best interest to spend more on a project, not less. You need to make sure that your chosen agency has enough budget to explore creative ideas and develop different options to find the best solution.
'Less budget means less time to explore ideas, less time to create quality work. A frustrated designer working within a tight budget is usually not going to deliver the quality and results you hope for'.

When it comes to the cost of hiring a branding agency itself, prices can vary from £1,000 to £100,000, in truth. You could get lucky finding a very talented designer on a freelance platform such as Fiverr or Upwork for £50 to £500. But, for a professional, complete identity that tackles your brand's intricacies, it's highly recommended that you contact an agency.
As a general rule of thumb, a complete package of logo variations, copywriting, web design, brand messaging deck and a brand style guide will cost a few thousand pounds. Yet, branding agencies are not only creatives. Branding is as much strategic as it is creative, and it's a good idea to find an agency that can assist you strategically as well as creatively.
At JAX Branding, that's our aim. Profitable branding is a concept that requires investment, but can take your brand far.
How does branding increase sales
Money, for better or for worse, makes the world go round. Even when it comes to issues such as climate change, where a drive for profit has harmed the natural world through oil and gas industrial production, for example, the ventures that will solve these problems require money.
When we at JAX Branding talk about changing lives, we understand that common humanity should underpin our decision making. However, there's no denying that many of the charitable causes we champion exist to help others achieve a better life. This improved standard of living cannot exist without money.

As such, making profit should be a key factor in how to brand your business, and especially if you're considering rebranding. Profitable branding allows businesses to do extraordinary things, and we're committed to that.

Want to kick off your football business career today? Chat with Jack, and start your journey.