The importance of having something to aim at, and a practical plan behind that, should not be overlooked in football business.
---
What you'll learn in this article:
• The psychology behind setting goals
• The importance of setting goals
• How to set business goals properly
---
Everybody has goals. Few people put the steps in place to actually achieve those goals.
Setting business goals is a key part of growing a business as a footballer. The great thing is, footballers tend to be quite familiar with goals. They serve as something to aim at, and to have direction towards.
Leaving the football sphere – or even just moving away from the game on-pitch – can be a confusing and difficult time for many footballers. Especially when it comes to leaving a routine that you've lived by since childhood, retirement can create a sense of lost direction.
By starting a brand as a footballer and setting business goals, you immediately begin to rebuild a structure both in work and in life more generally. Setting up a business as a footballer brings a chance to channel your energy and time into something new. It allows you to commit to a new objective, and inject passion into an interest or hobby that you've only ever considered as that.
Setting business goals is one of the earliest stages of creating a brand as a footballer. Goals and aims are two nouns that are often mixed up; they mean very different things. Aims are long term visions of the ultimate situation in which you want to exist. A goal is a smaller, more achievable step that will help you reach this aim.
As such, setting business goals as a footballer leaving the game can help fill two voids. First, it can ignite a longer term passion and enact a new beginning – the chase of a new dream that powered a football career. Second, much like the season-to-season working life of a footballer, short-term goals can retain engagement, set focus, and keep enthusiasm and motivation high.
Let's take a look at some of the psychology behind goal setting, how to set manageable and achievable goals, and some great examples of setting business goals in football.

Setting business goals: the psychology
The psychology of setting business goals is a very inward-looking process. Goals not only create the means to grow your business as a footballer, but also find a sense of motivation and progression in your own life.
Research suggests that setting business goals is linked to increases in self-confidence, motivation and happiness. This doesn't only stem from a theoretically higher likelihood of seeing your business succeed, but also from knowing that you have a purpose and mission to fulfil.
'Goals help keep us accountable, leading us to attain desired outcomes', according to Dr. Marina Milyavskaya, an associate professor of psychology at Carleton University. 'The best goals are those that are personally relevant, meaningful, and enjoyable — also called self-concordant goals, or 'want-to' goals'.
The idea of setting self-concordant goals can tie into your approach to business, not only your day-to-day life. Setting business goals as a footballer, especially when founding a brand, strongly links to the idea of creating meaning. More and more entrepreneurs are taking innovative approaches to founding a brand, looking to make an impact on the wider world ahead of working solely for profit.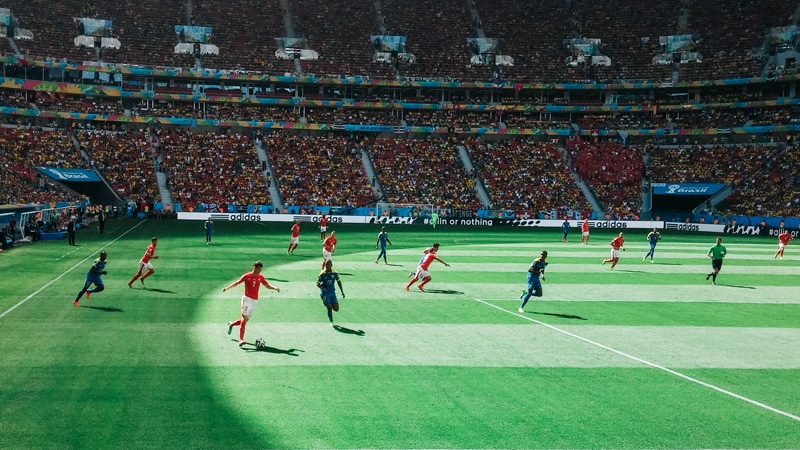 ---
We are for the people. We are for football. Check out JAX Branding's football manifesto to get a taste of what we're about.
---
However, when setting business goals as a footballer – especially upon leaving the game and retiring – it's important to be mindful of the journey, not only the next big achievement. Being a professional footballer, sportsman, movie star or singer leaving their respective field can bring feelings of loneliness, self-doubt, and even depression.
From a psychological perspective, this is often linked to the removal of being measured by achievement. When a contract depends on constantly performing at the highest level, with the pressure of thousands of fans looking only for achievement, the mind can become conditioned to equating success with happiness.
When setting business goals as a footballer, it's important to remember that the new experiences and life-path you're now set on is something to enjoy. It can be difficult to leave an environment where every single day is, essentially, a fight for a medal, trophy, or place in the team.
Yet, when you move into the business arena and begin setting business goals, your planning process will be longer-term. Keeping goals small, achievable, and current will help smooth the transition between the intensity of football and the long-term scenario of setting up a business.
Setting business goals example
Any business goals need to be created with a long-term aim in mind. Your business's vision statement will summarise your long-term aim. Setting business goals then becomes a lot easier. If you know that, ultimately, you want your business to be in X,Y, or Z place, then you can begin to quantify these goals.
Setting business goals needs to have a 'what' and a 'how'. Theoretical business goal strategies are varied, but they all include these two key principles. Goals can be set from the top-down (senior management creating larger goals that are then broken down into individual employee objectives), or bottom-up (small goals set on a departmental scale that tie into a mid-range goal).
One of the most popular goal setting acronyms is S.M.A.R.T. This stands for Specific, Measurable, Attainable, Relevant, and Time-Bound. It's here that we are introduced to the idea of quantifying goals – putting numbers around them.
Let's say that your business aim is to generate £50,000 in revenue by the end of the year. To do this, you'll need to generate roughly £12,500 in revenue per quarter. However, that still isn't a S.M.A.R.T goal, as although it's measurable and time bound, it's not necessarily specific or attainable.
To make this goal specific or attainable, you could do the following:
In Quarter One, you will launch a new social media marketing campaign. This will include targeted, paid Facebook ads aimed at generating leads to your website.

In Quarter Two, you will attend three convention or expo events with an aim of generating £10,000 in sales.

In Quarter Three, you will expand your social advertising and create a season-specific promotion campaign for your product.

In Quarter Four you will announce a 25%-off-all-products flash sale to drive sales at the end of the year.
You don't only have to work in financial quarters when setting business goals. The best brands adapt to market factors. This doesn't mean that they are constantly diverting from their goals, but that they have the agency to tweak these goals whilst staying true to their long-term vision.
You can have as many short-term goals as you like – even coming down to hourly goals. These goals can be delegated throughout your team. They can also be ranked into different priority categories. So, for example, to create a new social media campaign to target £12,500 in revenue in Q1, you might:
Priority One – Social Media Executive – by Friday, create first posts for new social media campaigns, and liaise with the sales team on targeting user groups for advertisements.
Priority One – Finance Manager – by Friday, complete the forecast on ad spend vs RoI to show how many ads we can afford to run per month.
Priority Two – Chief Operations Officer – by next Friday, create a foundation document for managing corporate clients who respond to the ad campaign.
Priority Three – Brand Director – by the end of the month, complete design foundations for the visual identity of the campaign.
Setting business goals as a footballer is one of the first steps on the road away from your on-pitch career. These principles can be applied to life, not only business, too.
Getting what you want is easier and quicker when you have the right tools. If you like this content, you'll love our goal achieving system. It helps increase your productivity giving you a higher chance of winning the game of life and business. We want every athlete to achieve their goals! That's why we've created a step by step process that shows you exactly how to do it. This method is what we've used to achieve our own goals, and we're positive you can do it too.
Book a short call with JAX Branding to discover your new path, and set your new passion free.
Want to kick off your football business career today? Chat with us, and start your journey.