The short-lived Super League project has done irreparable damage to football. The 'big six' teams are seen to have ruined relationships with their fanbase, turning most football fans against them.
Bad branding. There are countless examples. From the new Spanish logo saga to Gap's infamous rebrand in 2010, bad branding has threatened the reputation of organisations around the globe and united the masses against businesses over so much as a logo.
When news of the formation of the European Super League broke late on Sunday night (April 18th), social media went into meltdown. It was as if the government's nuclear launch codes had been leaked, or World War Three had broken out. In other words, the reaction was overwhelmingly negative. Over the following days, protests broke out at matches across the country – notably Leeds vs Liverpool and Chelsea vs Brighton.
The Super League teams from the Premier League withdrew from the project by Wednesday 21st April. It appeared that intense fan, pundit, player and manager pressure had worked. Perhaps surprisingly, said clubs' owners have finally seemed to realise that increasing their net worth by a few billion pounds may not actually endear anybody to the project…
Hence, the Super League project has come crashing down within days of its announcement. Some fans have labelled it the worst idea to ever grace football. Others have vowed to never forgive their owners for what could so nearly have happened. At Arsenal, calls for owner Stan Kroenke to step down are rife. Manchester United vice-chairman Ed Woodward has himself resigned in the past days, although how much of this was to do with the Super League is not in the public domain.
Bad branding. The Super League was an example of terrible branding, but not in the traditional sense.
The Super League was so short lived that it did not release an official brand identity. No logo was produced, and the website consisted of one page that featured a purple and black colour palette. This in itself drew more than one sarcastic remark from aesthetically savvy football fans.
So, this isn't where the Super League is perceived to have failed. Instead, the competition was doomed due to the values (or rather lack of values) that were immediately associated with it.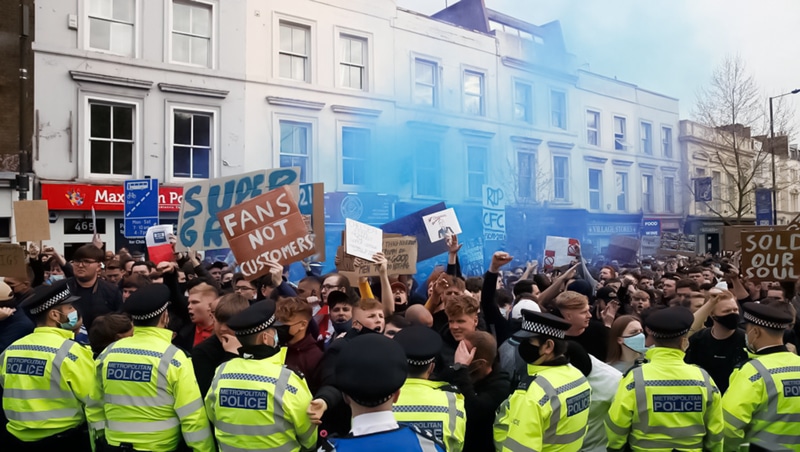 The world's greatest brands retain customers. This being so, loyalty is key to growth in any industry. It connotes trustworthiness and quality, and implies that a brand is, simply, 'working'. As such, the physical branding of a business becomes a visual embodiment of these values. Apple's iconic logo means nothing in itself (despite the theories surrounding its meaning), but because Apple has forged a reputation for quality, innovative products, the logo anchors these values into something 'real', so to speak.
It would be fair to say that the Super League is quite simply an 'unbrandable' project. Branding and reputation go hand in hand – not so much in a chicken-or-egg scenario, but rather in the sense that a brand is devised from reputation of the company. As such, a reputation has to first be moulded; one that can then be turned into a stone-set immortalisation of this character. The Super League, in its nature, attracted a reaction so disastrous that it had killed the reputation-formation part of branding within about 30 minutes.
Good branding often serves to encourage people to engage with a business. But, in order to do this, there must be a benefit for both parties.
The Super League's main issue was that it simply did not benefit anybody apart from a few select people. There weren't even assurances that players or staff would necessarily get pay rises. Hence, only three groups of people could be seen to be benefitting from the proposal – the founding owners, shareholders, and companies or individuals actively engaged in its promotion.
The first phrase that comes to mind is 'for the many, not the few'. Football, for the one hundred years-plus that it has been played with spectators, has never been seen as a 'rich man's sport'. Regardless of whether this statement is correct or not, it is undeniably true that football is a sport that prides itself on being non-exclusive. The game is for everyone, epitomised by the way it has become popular in virtually every nation on earth.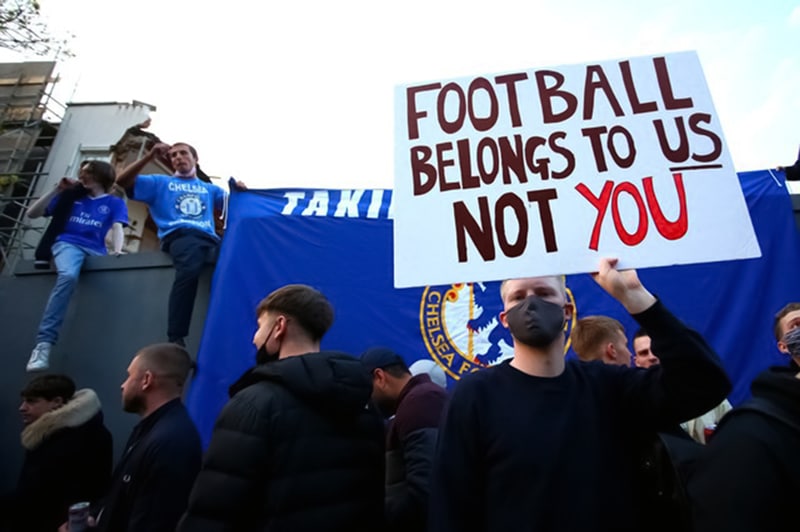 Many people consider football the 'global language'.
The Super League failed to present a 'win-win' situation. Its identity was based on wealth – namely, gaining extraordinary amounts of it. No matter how good a spin doctor the creators employed, the proposal simply lacked any legitimate ethics or morals. An example of bad branding in the sense of its brand personality, the project took something meant for the many, and manipulated it for the few.
In today's political climate, this approach is nothing if not shameful.
Want to kick off your business career? Chat with Jack about your vision, and get the ball rolling.