What are the key messages footballers should portray when setting up a charity or foundation?
---
What you'll learn in this article:
• Why football charities are important
• Best practises when branding a football charity
• Examples of football foundations and their branding
---
We know football as 'the beautiful game'. It brings people together, and touches those all over the world. Many of them are far removed from the dizzying wealth of the Premier League, yet the underpinning community spirit of football creates bonds between those who can go to top flight stadia every weekend, and those who can only dream of it.
It's this idea of community we want to portray when branding a football charity.
With more money comes more opportunities to give, not only buy. In recent years, we have seen more and more entrepreneurial footballers creating foundations, contributing to charity, or investing in start-ups designed to change the world.
Charity has become an increasingly attractive way for footballers to give back to those who support them through thick and thin. Often, their causes are closer to home that we may recognise at first. Just take a look at…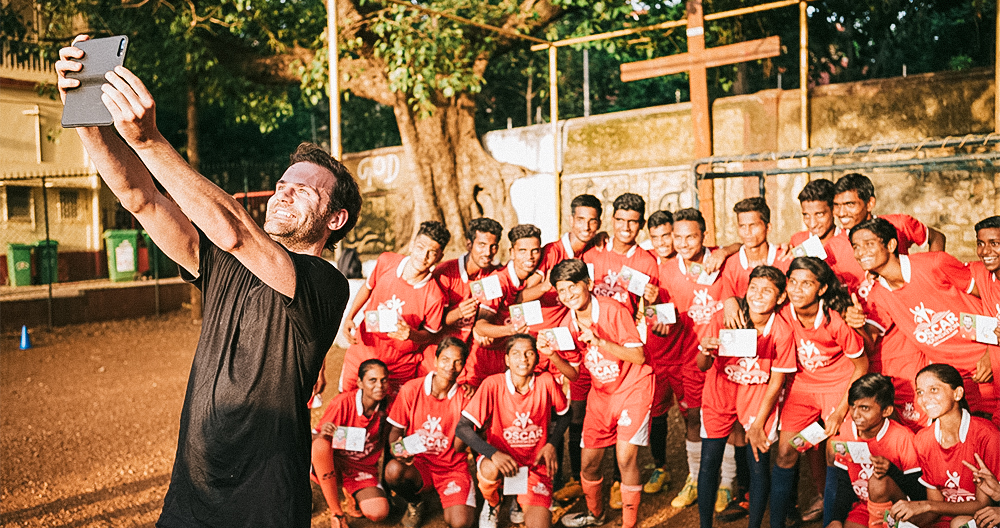 Charities are there to make an impact. However, in a digital age, they need to be given the tools to do that. Branding a football charity doesn't have to mean a push for profit, but rather the opportunity to make sure that your message is in front of the people you know can make a difference.
When branding a football charity, message is important. A strong visual identity shapes this. This is a winning combination, for you and for football.
Let's take a closer look at how other organisations are branding a football charity
Football Beyond Borders is a educational and social inclusion-oriented foundation that aims to support children struggling with education through their passion for football. Ex-Manchester United defender Chris Smalling is patron, with FBB also partnering with a host of organisations ranging from the FA to Nike.
In January 2020, FBB underwent a rebrand crafted by digital agency Alphabet. The rebrand saw the original logo placed amongst a reimagined digital identity, the roll out of a vibrant mint/lime green green colour palette, and a rejuvenated set of imagery centering on the core of their organisation: youth.
Their clever copy played on social concepts and debates, with one particularly punchy campaign tagline reading 'what makes a man?'.
---
We are for the people. We are for football. Check out JAX Branding's football manifesto to get a taste of what we're about.
---
In terms of website design and structure, the layout of Common Goal and Football Foundation (UK) is kept simple. Football Foundation keeps their focal points simple on the navigation bar.
On the left hand side of the bar, we see the 'What We Do', 'Who We Are' and 'Our Impact' tabs. Bearing in mind the fact that users tend to, psychologically, read in a triangle format from left to right and to left again down the page, this is well placed.
All three sites use primary colours (in some cases, shades) in their colour palettes, creating bold and striking visual identities. Their Call To Action buttons are all clearly placed, use simple language, and stand out against the page's primary colour palette.
When it comes to language, the mission of each foundation is clearly situated either on the homepage or about us page. Their messages are simple and effective, clearly outlining the changes they seek to make to the world.
Branding a football charity for beginners
Through a revised set of typography in tandem with a bright green, impactful colour palette and strong, value-oriented imagery, Alphabet made FBB stand out. But what can we learn from this about branding a football charity?
Well, branding a football charity needs to create an impact – both visually and emotionally. At the same time, the organisation needs to keep its purpose at the core of the branding. In short, when branding a football charity, make the mission stand out. The heart and soul of what drives the organisation forward.
It's important to remember that branding doesn't mean for-profit. It's too often associated with marketing and advertising, and this can give it a commercial reputation. However, branding simply means 'making a mark' – exactly what football charities aim to do.
Branding a football charity is all about building a visual identity around a core set of values. Firstly, it's important to discover exactly what these values are – even the ones you haven't thought of – at a brand discovery workshop.
We'll sit down, have a chat over a coffee (or Zoom), and get to know each other. The story is an important part of any football charity branding project. It helps define what your mission is, and how you can help change the lives you want to touch.
Once we've discovered what's at the heart of your project, it's time to get thinking. A whole host of ideas are simmered down to a set of core messages that underpin the branding outlook. With this in place, we can begin to translate key concepts into visual icons and imagery.
As we've seen above, this is achieved through four physical branding components. It's time to make an impact:
Colour – the colour palette of a football charity creates is a subtle yet key emotional messaging vector. This essentially means that certain colours trigger certain emotions in people which link to the reaction you're trying to evoke from them.
Logo – the logo of a football charity is key in spreading the message. A strong, simple logo will visualise your mission, creating trust and loyalty to not only to your organisation, but the cause it champions.
Copy – some say that words are our most valuable source of magic. When it comes to changing the world, impactful plain language clearly stating the problem that exists and solution you offer creates trust and, importantly, hope.
Call To Action – Once you've made the connection, you want to make sure people go that one step further and get involved with the work you're doing. Keep it simple, clear, punchy, central and easily spottable on your website or social media. Use a bold accent colour to make the button stand out. Don't confuse users with jargon or T&Cs!
If you're thinking of branding a football charity, give yourself the best chance of making a difference. Make it with JAX Branding.
Want to kick off your football business career today? Chat with Jack, and start your journey.